Looking for custom covers for your business? We can help!
We create custom covers for designers, restaurants, resorts, hotels, sports venues and more. If you can't find what you are looking for in our stock patterns, we can make custom covers from our proprietary custom fabrics or Sunbrella outdoor material. All you have to do is send us the quantities and dimensions of the items you want covered and we'll do all the rest.
Our dedicated team of cover experts will get you in the right outdoor cover - one that will last for seasons to come. We have 25 years of experience in cover manufacturing and understand what it takes to design and manufacture covers of enduring quality and timeless design. Yes, we manufacture our own covers and will not produce anything less than a quality built product. All covers are built to tight QC tolerances, and are fully inspected before leaving our facility.
Custom outdoor covers are availabe in Marinex marine grade boat cover fabric or Sunbrella outdoor fabric. We do NOT use any cheap vinyl or layered non woven polypropylene materials. If you want your facility to look like a world class resort you have come to the right place.
We are happy to accommodate tax-exempt businesses!
Let our cover experts help you find the perfect solution!
Contact us and our team of cover experts can work with you to find a solution to your unique cover project. Please measure your furniture ahead of time. Even pictures can be helpful! We look forward to hearing from you!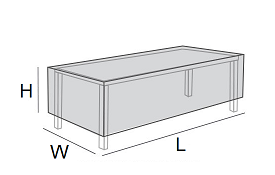 Our Contact Center is open 7 days a week during these hours:
Monday thru Friday - 6:00am - 5:00pm PST
Saturday & Sunday - 7:00am - 3:30pm PST
Call 1.800.616.0599
Looking for a basic quote? Fill out our online form.
If you're interested in a basic quote online, please fill out the below form and our team of cover experts will get back to you as soon as possible! If you have any questions, please feel free to contact us at 1.800.616.0599.
Thank You! We appreciate your business
The National Cover Team