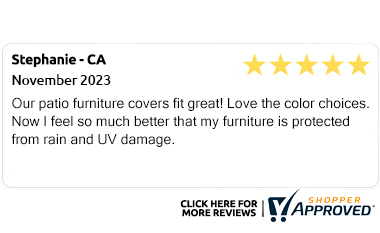 PATIO FURNITURE COVERS FROM AMERICA'S LARGEST SOURCE!
We specialize in getting you the perfect patio furniture cover for your needs. We do this by offering a wide variety of outdoor furniture covers made from the most durable waterproof marine grade materials including Marinex and Sunbrella. National Patio Covers carries industry leading patio furniture cover brands including Regent, Meridian, Portofino, and Seasons. All of our brands are hand-selected for durability, long life and style. Protect your investment for years to come with the biggest and best selection of patio furniture covers today!
Please call us if you need help selecting your patio furniture cover. We are happy to help! 800-616-0599.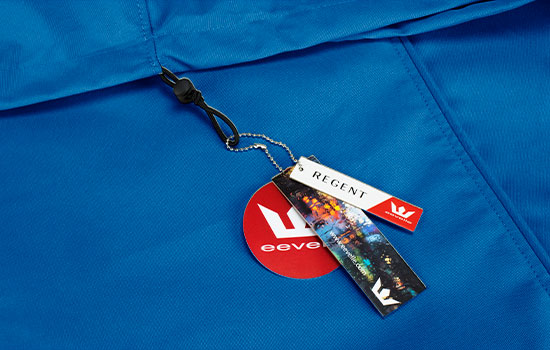 PATIO FURNITURE COVER EXPERTS
Every patio furniture cover that we offer at National Patio Covers has been tested by our team of outdoor experts for quality, toughness, and style. We place heavy focus on visual appeal, durability, ease of use, price range and numerous other factors specific to each product line. Here at National Patio Covers, our goal is to bring you the best selection of high-quality patio furniture covers at the best possible price. Don't settle for cheaply made patio furniture covers. Protect your furniture for years of great use with a durable cover from National Patio Covers.
Our success is built upon selling only the best high-quality outdoor furniture covers and supported by our friendly and knowledgeable staff. Please call us with any questions if you need help selecting a cover for your patio furniture. Our USA-based call center staff are here to help you find the perfect cover to protect your outdoor furniture. Call today: 800-616-0599.
QUALITY OUTDOOR FURNITURE COVERS
Our line of durable outdoor furniture covers is built to demanding quality specifications. You can always rest assured that our outdoor furniture covers will protect your investment from the elements.
Don't be fooled by cheap patio furniture covers available today. The primary goal of outdoor covers is to protect something. If they can't accomplish that basic task, then they are a waste of money at any price. We ensure that our outdoor furniture covers meet our stringent quality and durability standards while also accommodating budgets of various sizes.
Every one of our patio furniture covers is designed and manufactured to perform season after season for years to come by protecting your outdoor patio furniture from harsh UV rays, rain, snow and ice. Innovative features include high quality fabric and waterproof marine grade materials. Don't accept less.
BUILDING THE PERFECT PATIO

There are few things better than relaxing outdoors at the comfort of your own home. Building the perfect patio provides a beautiful and relaxing place to gather with friends and family and it's not as difficult as you may think. Consider what the purpose of your outdoor refuge will be and its centerpiece. Holding parties? Maybe a large outdoor table complete with sectionals and a firepit is in order. Planning a more active patio that includes a pool or grill? Consider some club chairs and patio umbrellas. No matter what your plan is, it is important to protect it with a quality patio furniture cover after you set up. Plus, stylish outdoor furniture covers can improve the overall look of your patio rather than detract from it.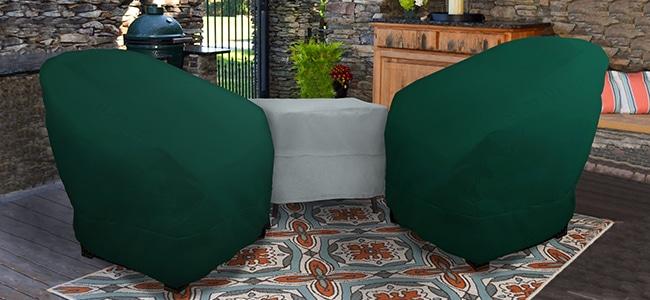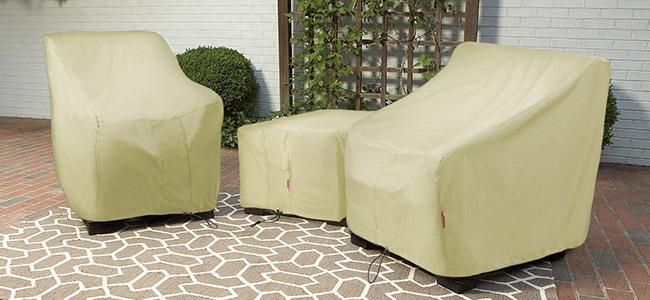 WHY PATIO FURNITURE COVERS ARE NECESSARY
Once you have spent the time, money and effort building your perfect patio, the goal should be to keep it in good shape for years to come. Proper patio furniture covers are not optional. Mildew, dirt, weather, insects, and the sun can wreak havoc on outdoor furniture. It is important that you not only protect your patio furniture but protect it fully. If your furniture will be in the rain, it is important that your covers are waterproof and fitted so that rain does not soak through or build up on top. Cheap patio furniture covers offer peace of mind initially, but that will fade quickly the first time it rains. Investing in high-quality patio furniture covers are a necessity because they both protect your furniture and save you money in the long run because they do not need replacing every year. We love perfect patios. Please protect them.